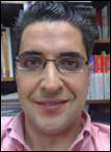 Emilio S. Corchado, University of Salamanca, Spain
Emilio S. Corchado is an Associate Professor of Computer Science at University of Salamanca.-(BISITE Research Group and GICAP Research Group). He is chair of the IEEE Systems, Man and Cybernetics-Spanish Chapter; member of the IEEE Spanish Section Board and member of the IEEE R8 PA subcommittee. He is or was member of some European networks of Excellence as Nature-inspired Smart Information Systems (NiSIS) and COST Action IC0806: Intelligent Monitoring, Control and Security of Critical Infrastructure Systems (IntelliCIS). He is reviewer and evaluator for the European Commission for the 7FP since 2007.

His research interests include neural networks, with a particular focus on exploratory projection pursuit, maximum likelihood hebbian learning, self-organising maps, multiple classifier systems and Hybrid Artificial Systems and its applications to industrial and environmental problems. He has published over 170 peer-reviewed articles in a range of topics from modelling of industrial processes, knowledge management and risk analysis, intrusion detection systems, food industry, artificial vision, and so on.
He is co-editor in Chief of the International Journal of Computational Intelligence Research (IJCIR) and member of the Editorial Boards of the International Journal of Computational Intelligence and Applications (IJCIA) and also of the International Journal of Reasoning-based Intelligent Systems (IJRIS). Dr. Corchado is guest editors of several special issues of reputed journals as Information Science (Elsevier), Knowledge and Information Systems (Springer), Neurocomputing (Elsevier), International Journal of Neural Systems (World Scientific), Logic Journal Of the IGPL (Oxford Journals), Neural Networks World (Institute of Computer Science AS CR and Faculty of Transportation Sciences), Expert Systems (Wiley-Blackwell). He is general chair for the following conferences: International Conference on Hybrid Artificial Intelligence Systems (HAIS), International Conference on Soft Computing Models in Industrial and Environmental Applications (SOCO) and International Conference on Computational Intelligence in Security for Information Systems (CISIS).
Abstract
Cyber Security by Means of Unsupervised Learning Models and New Challenges
The growing number of attacks on the cyber networks has become one of the most serious economic and security threats our world faces. Then a lot of work is done and it is needed in countering these threats, to keep civilian networks secure, and secure the cyberspace and critical infrastructure on which we all depend. Due to the increasing dependence that organizations, companies and governments have on their computer networks, it is very important to protect all these systems from attacks. The accurate detection in real-time of computer and network system intrusions has always been a complicated and interesting problem for system administrators and information security researchers. We present several unsupervised neural techniques for the identifications of attacks and we identify some of the new challenges in Cyber security, as the ones base of the use of Social Networks.