The conference will be held at the University of Cergy Pontoise :
Université de Cergy Pontoise
Site de Saint Martin
2 avenue Adolphe Chauvin
95302 Cergy Pontoise
*See the map and satellite view.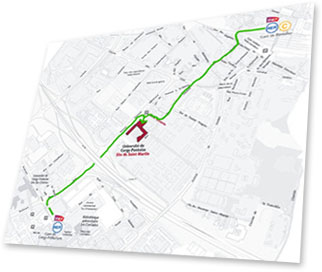 Cergy Pontoise is strategically located to the north of Paris (30 Km central Paris). There are several possibilities to arrive to Cergy Pontoise:

By plane
There is no international airport in Cergy Pontoise, but the international airport of Roissy Charles de Gaulles is only 30 km far . Participants are encouraged to come to Paris-CDG airport and then to take a shuttle (departure every 30 mn to Cergy) or a taxi to Cergy. Paris Charles de Gaulle is the closest international airport to Cergy, but an arrival at Roissy-Paris international airport is also possible (Subway 1h).

The Bus 95-18 available only at the Gare TGV in the airport is direct to Cergy Pontoise, timetable is here !
By rail
- Paris < - > Cergy: 45 minutes via RER A (Cergy Prefecture station)
- Paris < - > Pontoise: in 35 minutes from Gare du Nord - Paris station, or 40 minutes via RER C (Pontoise station)

By road
Fast motorway access from:
- Paris (A15): 30 KM
- Lille-Belgium (A1-N1)
- Lyon (A31)

Parking is available on and around the Campus.

Inside Cergy
See the map and satellite view !
It is well linked to the Cergy downtown and the campus by bus.
- 5 minutes walk from RER-A
- 10 minutes walk from RER-C / SNCF Railway
- 18 bus lines with 596 stop points.