Conference Venue and Transport

The conference takes place on the upper level at the Memorial Union at NDSU. If you are staying in the recommended hotels (Homewood Suites or Days Inn) then you can either walk the three blocks from your hotel to the Memorial Union (see images below), or take a taxi (should be around $6).
Homewood Suites (A) to Memorial Union (B):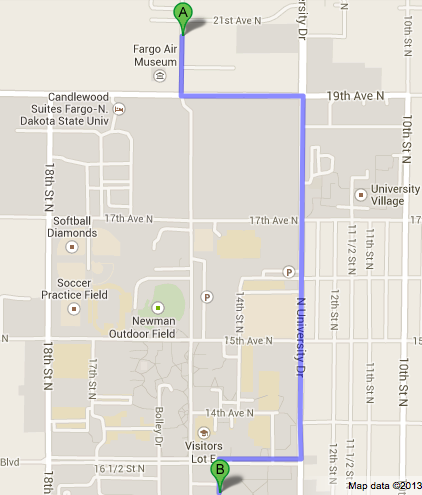 Days Inn (A) to Memorial Union(B):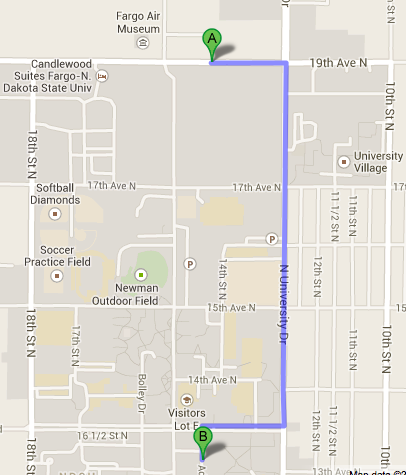 The conference venue is at the North Dakota State University (NDSU) located in Fargo. Fargo is a relatively small metropolitan area with a population of 168,000 (includes surrounding towns). 

Learn more about Fargo-Moorhead area: http://www.fargomoorhead.org/
NDSU Campus: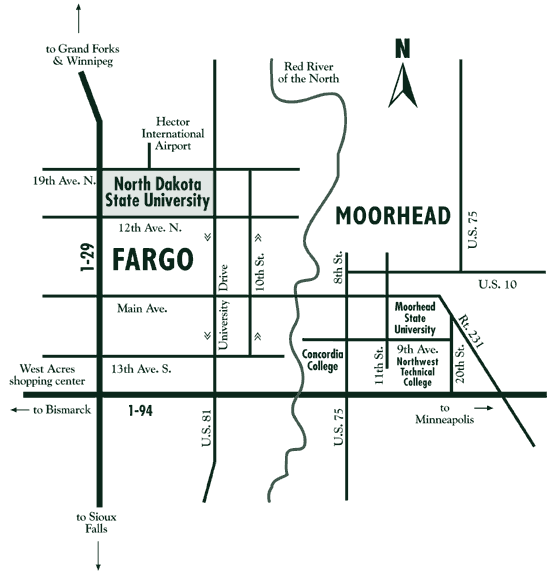 Arrival By Air
The closest airport to the conference venue is the Hector International Airport located in Fargo, which is only about 4.8 kilometers (3 miles) from the conference venue. You may take a Taxi to go to the conference venue (approx. US$9.00) or to your hotel (should be less than US$15.00 to most hotels). Several hotels provide transportation between the airport and the hotel. The Fargo hotel map will give a rough idea on the conference venue and hotel locations from the airport.
If you are driving from the airport to the conference venue you may take the following route:
Follow airport exit on Dakota Drive to 19th Avenue North (first stoplight).
Turn left on 19th Avenue North.
Travel east on 19th Avenue for about 1.9 kilometers (1.2 miles) to University Drive (this will be the second stoplight on 19th Avenue).
Turn right on University Drive.
Follow University Drive traveling south past the Bison Sports Arena, through two stoplights.
Minneapolis-St. Paul is a large metropolitan area closest to Fargo. It is about 4 hours drive from Minneapolis to Fargo. If you plan to fly to Minneapolis-St. Paul International airport then you will need to approach Fargo from the East by Interstate 94. Further details to approach BY ROAD to the conference venue at NDSU may be found at the following URL.
A map shows the NDSU location relative to the major highways around NDSU
http://venus.ece.ndsu.nodak.edu/ece/research/conferences/icimade01/directions.html