Conference Venue and Transport
Tunisia is known for its golden beaches, sunny weather, fabulous archaeological sites, upscale spa thalassotherapy, and affordable luxuries. It is now a democratic modern country in which liberty, peace and safety are guaranteed! All Tunisian people are here to welcome you and make you spend an unforgettable stay.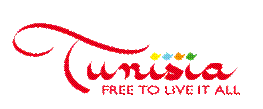 The Conference will be held in RAMADA Plaza Tunis Hotel in Gammarth, one of beautiful cities in Tunisia. Special prices are offered for attendees to the conference.
See the Accommodation webpage.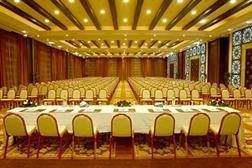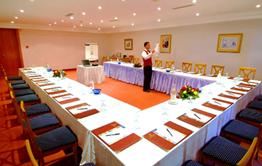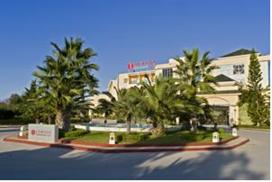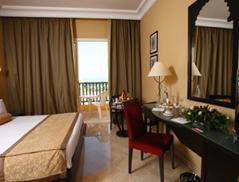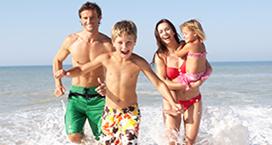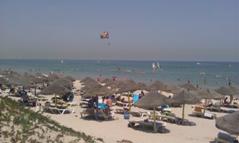 Airport – Hotel – Airport:
Upon arrival at the Tunis-Carthage airport and after completing customs controls, an agent from the organizing committee will be available to welcome you and take care of your transfer to the hotel if you requested this service. The transfer service is free for participants selecting the RAMADA Plaza Tunis Hotel.
Official Carrier:
TUNISAIR Official Air Carrier: 50% discount on your flight ticket to Tunis
Valid only for the participants flying to Tunis with TUNISAIR in economy class.
The 50 % discount will be granted on the excursion rate from foreign countries to Tunis.
A code for the special rate will be given to all the representations of TUNISAIR abroad. A confirmation of participation will be required by all the representatives offices of TUNISAIR in the world in order to validate your discount.
Main connected cities are: London, Manchester, Madrid, Barcelona, Lisbon, Paris, Lyon, Brussels, Geneve, Milan, Rome, Amsterdam, Berlin, Frankfurt, Vienna, Istanbul, Munich, Moscow, Dubai.


Airports:
Nine international airports link Tunisia to Europe, to Africa and to the Middle East. Main and nearest airports are: Tunis Carthage (TUN), Enfidha (NBE), Monastir (MIR), and Sfax (SFA), served by numerous international airlines and charter companies. Domestic flights are provided by a national company.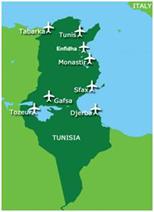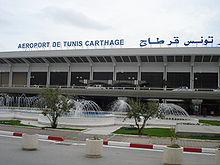 Tunis Carthage Airport (TUN)
Taxi:
Yellow taxis are equipped with a meter. It is a fairly cheap means of transport. The transfer from Tunis airport to the Hotel costs about 7€ per way (20 km).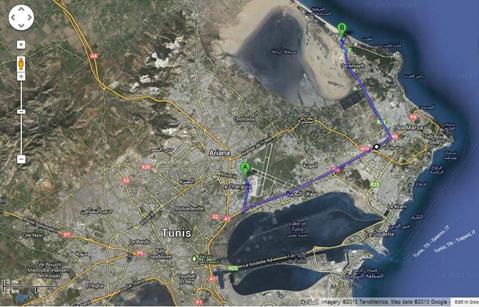 About Tunis:
Capital of the Tunisian Republic
Tunisia's largest city, with a population of 2,256,320 as of 2011
Situated in North Africa and on a large Mediterranean Sea gulf and lies the suburbs of the old medina, Carthage, Sidi BouSaid, and Bardo Museum
The medina of Tunis and the site of Carthage are 2 from 8 UNESCO World Heritage sites in Tunisia
In 2011, a revolution resulted in the overthrow of an autocratic President and the first free elections in the country were held. Since then, Tunisia has been consolidating its young democracy
The 2011 Tunisian Jasmin revolution is internationally recognized to be a unique peaceful revolution
Tunisia is now a democratic modern country in which liberty, peace and safety are guaranteed
Visa:
European citizens and those from other countries in Eastern Europe do not need an entry visa to Tunisia for a stay not exceeding 90 days. A valid passport is sufficient or an identity card no older than 10 years with a reservation at the hotel as part of a tour.
List of countries that do not need an entry visa to Tunisia: Algeria, Germany, Andorra, Antigua, Argentina, Austria, Bahrain, Barbados, Belgium, Bermuda, Bosnia and Herzegovina, Brazil, Brunei, Bulgaria, Canada, Chile, South Korea, Côte d'Ivoire, Croatia, Denmark, Dominica, Spain, United States of America, Fiji, Finland, France, Gambia, Greece, Guinea, Honduras, Hong Kong, Hungary, Ireland, Iceland, Italy, Japan, Kiribati, Libya, Liechtenstein, Luxembourg, Macedonia, Malaysia, Maldives, Mali, Malta, Morocco, Mauritius, Mauritania, Monaco, Niger, Norway, Oman, Netherlands, Portugal, Qatar, Romania, United Kingdom of Great Britain and Northern Ireland (for nationals holders of ordinary passports), St. Kitts and Nevis, Saint Lucia, Solomon Islands, Senegal, Serbia and Montenegro, Seychelles, Slovenia, Sweden, Switzerland, Turkey and Vatican.
Vaccinations & Health:
No vaccinations are necessary to enter Tunisia.
Currency:
The National currency of Tunisia is the Tunisian Dinar. It is a fixed and partially-convertible currency, prohibited from being imported and exported. This means that you must wait to exchange until arrival in Tunisia.
You may convert your money at the airport– there are several kiosks open. Any extra dinars you may have when leaving Tunisia must be exchanged, and you must have your original receipt of exchange.
The Dinar is broken down into 1,000 "millimes" or thousandths.
One US Dollar is equivalent to about 1.650 TND. A 1.5 liter bottle of water can be purchased for 0.600 TND ~ $ 0.36
It is reasonable to purchase items in souks, hotels, and some stores with foreign currency (Pounds, Dollars, Euros).
Credit cards are accepted in the majority of the hotels of a certain standing, the large restaurants like in almost all the stores for tourists. In all the important cities, one will find slot-machines allowing to carry out withdrawals, with the Visa cards and Mastercard.
Tourism Offices:
In each major city (Tunis, Sfax, Sousse, Monastir, Nabeul, Hammamet, Tozeur, etc), you will find the National Tunisia Tourism Office (ONTT) branch office. These offices are open during regular working hours, as well as Saturdays and Sundays. They can help you with any information you need, excluding tour and excursion information.
Emergency Info:
Police: 197
Ambulance: 190
Fire Department: 198
Where & What to Buy:
What to Buy?
Tunisia's artisan work is exquisite and full of quality. Of the items you can find in Tunisia, here are some of the most popular:
Carpets (berber style and arab style)
Ceramics and pottery
Bird Cages
Jewelry
Coral
Olive woodwork
Leather (shoes, wallets, belts, etc)
Where to Buy?
Gabès: Henna
Guellala, Djerba: Pottery
Kairouan: Carpets and Makrouds (a sweet delicacy covered with honey and filled with dates)
Tabarka: Coral
Nabeul: Pottery and Orange flowers
Tozeur: Dates and Palm-tree straw hats and bags
In each city, there is a SOCOPA store that is managed by the ONAT (National Office of Tunisian Artisan work) and has fixed labeled prices on all products.
Many of the goods can also be found in the souks, medinas, and center-towns across Tunisia.
Voltage:
220 V and 50 Hz
Electrical plugs type C and E (same round plugs like in Western Europe.)
Make sure to bring a converter for your hair-dryer and other powerful electronics.
Climate & Weather:
Tunisia's Mediterranean climate means that it is a beautiful land of constant sunshine and warm waters, with gentle sea breezes. Summers are warm and dry, while winters are wetter, and the inland regions tend to experience higher temperatures in summer and more rain in winter, with the cooler season falling between October and May. July and August are the height of summer and so a more comfortable time for travelling to Tunisia is in the cooler months, where temperatures range between 54°F and 82°F (12°C and 28°C).
The capital city, Tunis, experiences an average temperature range of 43°F to 57°F (6°C to 14°C) in January, to between 70°F and 91°F (21°C and 33°C) in August. March to May (spring) brings a gorgeous display of wild flowers spread throughout the countryside.
Excursions to main touristic places:



Sidi BouSaid


Av. Habib Bourguiba Tunis


Carthage


Bardo Museum in Tunis


Hammamet


El Jem


Sbeitla


Dougga


Monastir


Kairouan


Sahara – South of Tunisia